Feb. 2017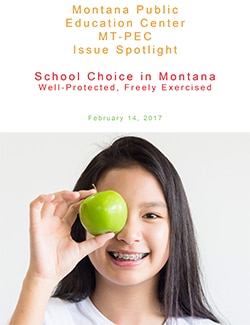 The Montana Public Education Center (MT-PEC), a coalition of public education supporters including MEA-MFT, has created an excellent little publication on school "choice." It's called "School Choice in Montana: Well-protected, Freely Exercised." (February 2017)

"School choice" has become a euphemism for diversion of public funds to private schools with no public oversight. (The 2017 Montana Legislature is considering several bills that would do just that. Read about them here.)
The 4-page MT-PEC publication shows, among other things, that:
Choices abound within public schools — including the right to choose which public school children attend, dual credit and AP courses, distance learning through the Montana Digital Academy, and much more.
Over 90% of Montana families choose public schools for their children.

With public schools, citizens have numerous assurances that their tax dollars are being well spent to benefit children. Private schools and unaccountable charters don't provide these assurances.
It's a quick and compelling read. You can download and share the publication here.