5-11-17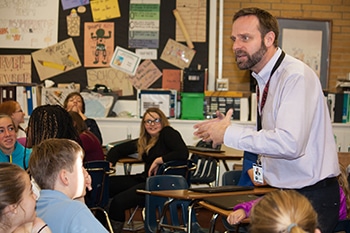 Kelly Elder shares his infectious enthusiasm with his geography students at C.R. Anderson Middle School in Helena.
When you become a Montana Teacher of the Year, doors all over the world open for you.
Literally.

Kelly Elder is a case in point. Elder, a social studies teacher at C.R. Anderson Middle School in Helena, was selected as Montana Teacher of the Year in September 2016.

Since then, his life has become a whirlwind of adventure and opportunity. His status as Montana Teacher of the Year helped him achieve two additional awards recently that will allow him to expand his knowledge of the world and bring the knowledge back to his students.

Last week, Elder earned a Global Learning Fellowship that will take him to South Africa in July 2018. He will gain more skills to teach about the world in the classroom, using South Africa as a case study. The National Education Association (NEA) Foundation chooses one award-winning teacher from each state to take part in the program, all expenses paid.

This week, Elder was notified that he is the recipient of a Global Ambassador Scholarship. He will travel to Helsinki, Finland and Milan, Italy this summer. He will join 60 award-wining educators from across the U.S. in Helsinki to learn about Finland's world-renowned educational system and its culture.

Then he will join over 1,500 students and teachers for a Global Leadership Summit in Milan, where he will hear from world-renowned experts on education and explore education's role in tackling global issues – in this case, a growing population and dwindling food supply. The program is sponsored by EF Education First and the Council of Chief State School Officers.

"I'm just salivating at this chance," Elder said. "As a geography teacher, we already look at major global issues in my classroom. Finland has one of the premiere education systems in the world. Is it better than ours? I'll get a chance to see firsthand, learn from professionals in the system there, and bring the information back here."

The food supply issue, he said, "screams to become a problem-solving unit in my classroom."

Elder is one of five state teachers of the year chosen to participate in the Helsinki/Milan program on a full-ride scholarship. "Programs like these look for top-achieving teachers," said Eric Feaver, chair of the Montana Professional Teaching Foundation.

"Our Montana Teachers of the Year have access to extraordinary opportunities specifically because they are recognized as top teachers."

These opportunities would not be possible without the Montana Professional Teaching Foundation, Feaver added. "Our foundation administers the Montana Teacher of the Year program," he said. "We don't choose the teacher of the year, but the program wouldn't exist without our foundation."

The Montana Professional Teaching Foundation was created in 1996 by MEA-MFT, Montana's union for teachers and other public employees, to enhance and promote the teaching profession. "Montana's school children are the direct beneficiaries," Feaver said.

Stateside opportunities: In addition to Elder's international adventures, he traveled to Dallas in January to meet, network, and learn with the nation's other state teachers of the year. "It was fantastic," he said of the experience.

Two weeks ago, Elder traveled to Washington, DC for a White House ceremony and black tie gala honoring the state teachers of the year. He met with the president, secretary of education, and both of Montana's U.S. senators, along with spending a full day learning more about innovative teaching techniques. Elder and the other state teachers of the year also visited the Smithsonian as VIPs.

"The connections I've been able to make through the Teacher of the Year program are invaluable," Elder said. "We tend to get isolated as educators. We need to interact with educators outside the state, to network and gain perspectives with them and with other educators elsewhere in the world."

Concurrent to his other recent awards, Elder recently was named the Region 7 Mid-level Advisor of the Year by the National Association of Student Councils. He serves as student council advisor at C.R. Anderson. The honor qualifies him to win National Advisor of the Year.

#

The Montana Professional Teaching Foundation, based in Helena, works to encourage and promote excellent teaching and learning in Montana. The foundation's programs include:
• Montana Teacher of the Year Program
• Karen Cox Memorial Grant Program
• National Board Scholarships & Candidate Support
• Presidential Awards for Excellence in Mathematics & Science Teaching
• Jim McGarvey Scholarship for Union Leadership in Public Education and Service