August 2017
Year after year, in measure after measure, Montana public schools large and small prove they are among the best schools in the world. Here's one more example.
Capital High School math team places second in international competition
ERIN LORANGER – Helena Independent Record – August 9, 2017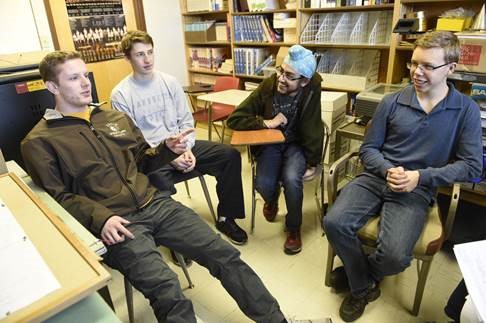 Capital High team — from left, Jack Murphy, Willie Gross, Jaskrit Singh and Caleb Noble — placed second in the International Modeling Challenge. IR photo by Thom Bridge
A team of four Capital High School math students is one of the top high school math teams in the world.

After placing in the top two teams in the country, the team was judged in the International Mathematical Modeling Challenge, where they placed second.

The four students were given five days to create algorithms to pick the best place for a hypothetical international meeting. The selected meeting place was supposed to allow participants to come from different countries and suffer the least amount of jet lag and productivity loss.

After considering distance, travel time, cost and the number of time zones attendees had to cross, the team picked a community in Russia for a primary meeting and Beirut or Cairo for the second.

Their math teacher, Dennis Peterson, said the team was one of two schools competing from the United States. The North Carolina School of Science and Mathematics took first place, while Capital tied for second with teams from North Korea, Argentina and Germany.

There were 27 countries or regions invited to participate in the 2017 challenge and after the national selection round, 49 teams competed in the international round of judging.

"I'm just really proud of these kids," Peterson said. "They have to be able to write. They know how to do computer code. They can do math."

Team member Jack Murphy previously told the Independent Record he thought the team did well due to a program that automated the process. When they tried it in a real world problem, such as where to host the G20 summit, the actual meeting in Germany was one of their top results, he said.

"They work really well together and they're very creative," Peterson said. "They each have their strengths."

Now, after placing in an international competition, three of the students are going to college. Murphy is going to Williams College, Caleb Noble to MIT and Willie Gross to the University of St. Thomas. The remaining teammate, Jaskrit Singh, will be the only returning member on the team next year.

Peterson said Singh will be joined by three new students from the Math Club on the team next year.