NEWS RELEASE

Montana Federation of Public Employees
1232 E 6th Ave., Helena, MT 59601

For release: January 21, 2018
Contact: Eric Feaver, 406-442-4250

A new Montana union is born

MEA-MFT & MPEA delegates give the final thumbs-up to merger, creating Montana Federation of Public Employees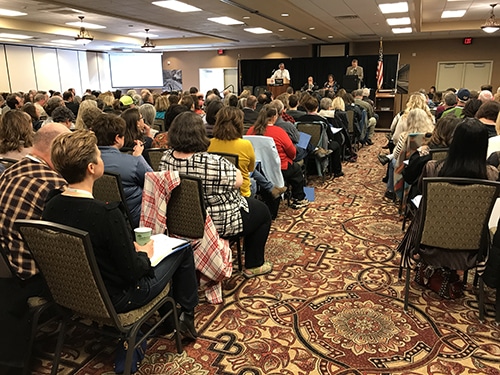 Delegates at the Jan. 20 meeting discuss the proposed constitution before voting to ratify it and put the final stamp on merger.
HELENA, MT – It's official: Montana's two largest public employee unions, MEA-MFT and the Montana Public Employees Association (MPEA), have joined forces.

The two groups took the final step to merge Saturday, Jan. 20, creating a new union with a new name: "Montana Federation of Public Employees."

"We made history today," said Eric Feaver, president of MEA-MFT, after the merger vote. "This is one of the most significant events in Montana labor history."

MEA-MFT and MPEA delegates from across Montana gathered in Helena for separate, simultaneous meetings Jan. 20 to vote on a proposed constitution for the new merged organization.

Both delegations overwhelmingly voted to ratify the constitution, giving the final thumbs-up to the new merged union.

The new Montana Federation of Public Employees has more than 24,000 members, including public K-12 school teachers and support staff; state, county, and municipal employees; higher education faculty and support staff; Head Start employees, and health care personnel.

"We have members in every community across the state, working for Montana's people," said Quinton Nyman, executive director of MPEA.

Amanda Curtis, a math teacher in Butte and an MEA-MFT state officer, said the merger is a win for Montana communities and the middle class. "Unions created the middle class in America, and unions keep it alive," Curtis said. "Coming together makes us far stronger and more effective."

The merger was a natural progression for the two unions, Nyman said. "MEA-MFT and MPEA have worked together for decades to improve and defend public services in Montana, protect workers' and voters' rights, raise the minimum wage, and fight for fair funding for schools and higher education," he said.

He added, "We have jointly stopped efforts to privatize and profitize public services and schools and we've fended off so-called 'right to work' bills."

In 2016, delegates to MEA-MFT's annual representative assembly and the MPEA annual meeting voted to direct their respective leaders to explore merging.

In 2017, delegates at both events voted overwhelmingly to go ahead and merge.

Following these mandates, officers from the two unions met at length and prepared a constitution for a new union.

With the ratification of that constitution Jan. 20, the new Montana Federation of Public Employees was born.

"The time is right for a new, larger union," Feaver said. "Public employees are under attack from forces that want to take away our freedom to form unions and make a better life for our families and communities. This merger is a major step in defending, promoting, and growing the Montana labor movement."

##