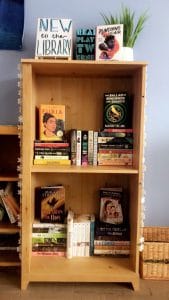 Karen Cox Memorial Grant Recipient Ciera Finberg has put her funding to good use!
As a language arts teacher at Columbia Falls High School, she was able to purchase 47 new, relevant, engaging books for her classroom library with funding provided by the Karen Cox Memorial Foundation.
Ciera designed an activity for her students that allowed them to browse through popular titles in several genres and rank them according to their interest. Then, she used the data collected from students to compile all of the student preferences and selected the most popular books from each genre according to her student's interests.
These new titles have been incredibly popular among her students. Some of the books have lengthy waitlists of excited readers. Ciera reports that she is witnessing unmatched student excitement and engagement after the introduction of these new titles.
"This speaks to the importance of exposing students to contemporary, interesting literature and to the immense good being done by the Karen Cox Memorial Foundation."
Thank you for all the work you do, Ciera!