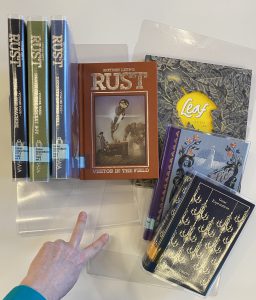 Karen Cox Memorial Grant Recipient Whitney Mitchell has put her grant funding to good use.
As a librarian at East Helena High School, Mitchell found that it was difficult to keep paperback reading materials circulating while following COVID-19 sanitization protocol to keep students safe. Several of the library's hardcover books also have paper spine labels, which make it nearly impossible to properly disinfect these books.
With the funds provided by the Karen Cox Memorial Grant, she was able to purchase covers for 138 paperback books and 1,000+ books with paper spine labels. These covers protect books from damage and allow librarians to properly sanitize these books. These covers have made it possible to put books back into circulation for the students of East Helena High School to enjoy!
10 shelf sign holders were also purchased for the library. She hopes to use these holders to post messages around the library encouraging students to write book reviews for books they've read. 500 of East Helena High's most popular library books now have a pocket on the inside of the cover to hold reviews written by other students.
Thank you for your dedication to your students, Whitney!