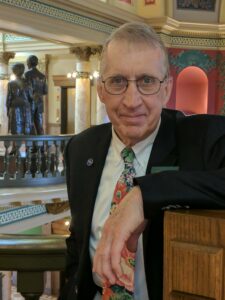 Members of the state's largest union, the Montana Federation of Public Employees, are mourning the unexpected loss of their founding President, Eric Feaver.
Eric was a decorated scholar, soldier, and labor leader who committed his entire life to the betterment of his neighbors and fellow workers.  Eric served in Vietnam as a combat medic in the 4th Infantry Division where, among several commendations, he earned a Combat Medical Badge and Bronze Star.
Eric taught English and social studies in Helena public schools before his career as a labor leader.  He was first elected president of the Helena Education Association in 1984 and was continuously re-elected by his fellow union members to the presidencies of the Montana Education Association, MEA-MFT, and MFPE until his retirement 36 years later, making him one of the longest serving elected union officials in America. He also served as a vice president of the American Federation of Teachers from 2006 until his retirement in 2020.  Eric led Montana's labor movement in fights for workers' and human rights at the ballot box, in court, and at the legislature.  He shaped Montana public education, politics, and elections.
Following his retirement in 2020, Eric was elected to the Helena City Commission, where he dove into municipal issues like public housing with the same vim and vigor he gave to the labor movement.  Eric Feaver was for the people in everything he did.
Feaver leaves behind his loving wife, Ellen; two daughters, Amity and Ashley; a son-in-law, TJ;  and several grandsons.  Throughout his long career, Eric's family gave him the support he needed to make real progress for Montana's middle class.
Montana has suffered the loss of an incredible labor icon and warrior for justice, peace, and working families.  MFPE President Amanda Curtis and Executive Director Erik Burke released the following joint statement this morning:
The loss of our union brother Eric Feaver is immeasurable, but we take solace in knowing that he and his values live on through the monumental legacy he leaves the people of Montana. Few people have had such a consequential impact on the well-being of Montanans. Eric was not only a fearless crusader for working families, but he was a dear friend and mentor to those in his life.