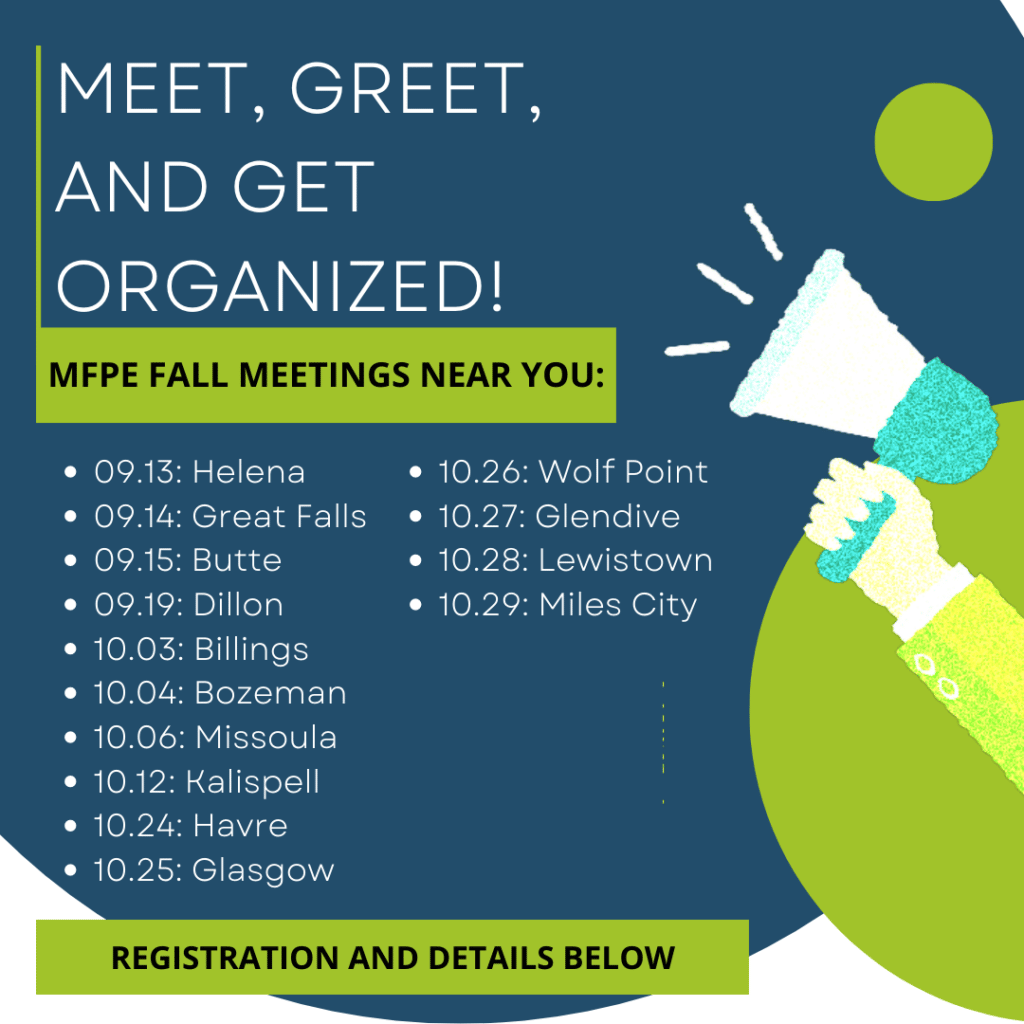 MFPE President Amanda Curtis is hitting the road! Join her at one of fourteen Meet, Greet, and Get Organized events across Montana this fall. Together, hundreds of MFPE members from Wolf Point to Dillon will organize and grow our union for the fights ahead.
We sit at a lot of bargaining tables. Across from us are mayors and city councils. Superintendents and school boards. County commissions. The governor and 150 legislators. Organized, our side of the bargaining table is strong enough to protect our workplace freedoms and contracts so we can do the work that matters for Montana.
Register below for an event near you. Celebrate our wins. Increase our strengths. Walk away energized and ready to secure better wages, benefits, and working conditions.
Member led. Member driven. It's the MFPE way.
HELENA
Tuesday, September 13th at 5:30 PM
Helena College – 1115 N Roberts
Downstairs Conference Room (002-003)
REGISTER HERE
GREAT FALLS
Wednesday, September 14th at 5:30 PM
Hilton Garden Inn – 2520 14th St SW
Sweet Grass/Bear Paw Room
REGISTER HERE
BUTTE
Thursday, September 15th at 5:30 PM
Carpenter's Union Hall – 156 W. Granite St
REGISTER HERE
DILLON
Monday, September 19th at 5:30 PM
UM Western – 710 S. Atlantic
STC, Great Room
REGISTER HERE
BILLINGS
Monday, October 3rd at 5:30 PM
Hilton Garden Inn – 2465 Grant Rd
REGISTER HERE
BOZEMAN
Tuesday, October 4th at 5:30 PM
Hilton Garden Inn – 2023 Commerce Way
REGISTER HERE
MISSOULA
Thursday, October 6th at 5:30 PM
Missoula College – Room TBD
REGISTER HERE
KALISPELL
Wednesday, October 12th at 5:30 PM
Red Lion Hotel – 20 N Main St
REGISTER HERE
HAVRE
Monday, October 24th at 5:30 PM
Location TBD
REGISTER HERE
GLASGOW
Tuesday, October 25th at 5:30 PM
Busted Knuckle Brewery – 303 1st Ave S
REGISTER HERE
WOLF POINT
Wednesday, October 26th at 5:30 PM
Sherman Inn – 200 E. Main St
Downstairs Room
REGISTER HERE
GLENDIVE
Thursday, October 27th at 5:30 PM
Dawson Community College – 300 College Drive
Ullman Center Auditorium
REGISTER HERE
LEWISTOWN
Friday, October 28th at 5:30 PM
Calvert Inn – 216 7th Ave S
REGISTER HERE
MILES CITY
Saturday October 29th at 5:00 PM
Miles City Town & Country Club – 4th and Eagle
REGISTER HERE