Stevensville Teacher Hannah Williams Wins the John Morrison and Cathy Wright Healthy Montana Kids Award
(STEVENSVILLE, MONT.) – The Montana Professional Teaching Foundation (MPTF) presented the 2023 John Morrison and Cathy Wright Healthy Montana Kids Award to Hannah Williams, a health and physical education teacher at Stevensville High School. The award recognizes a teacher or school employee who, through inspiration and innovation, has fostered a commitment to healthy lifestyles and choices among Montana's public school students.
Hannah Williams has tripled the number of health and physical education course offerings at Stevensville High School over the past decade. Working with students, faculty, administrators, and parents, Williams has designed and continually evolved new curriculum for over ten courses. Course offerings now range from Childhood Health to Outdoor Fitness to Lifetime Sports, offering Stevensville's students the chance to form lifelong healthy practices.
As the winner of this year's John Morrison and Cathy Wright Healthy Montana Kids Award, MPTF presented Williams with a $3,000 stipe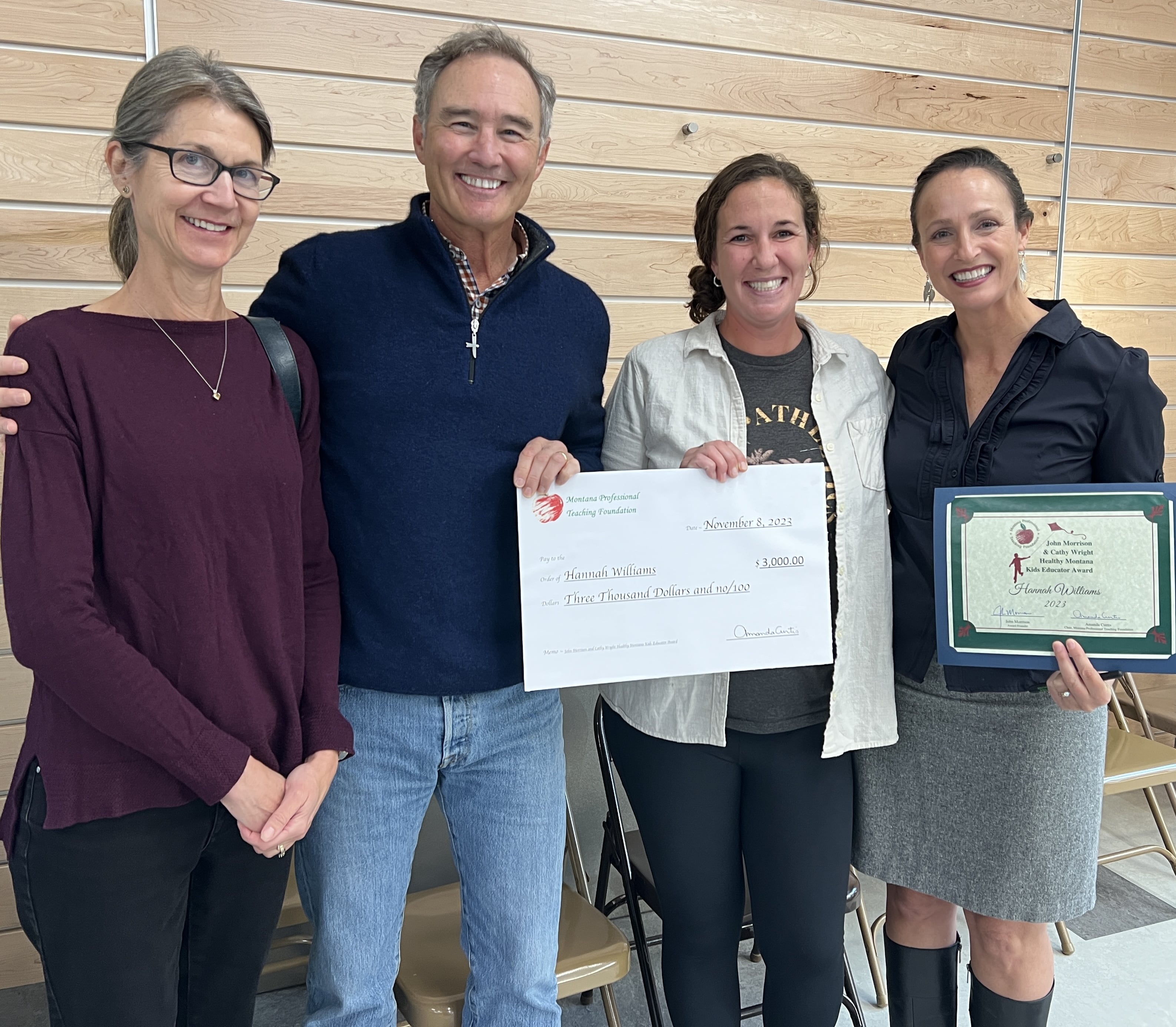 nd to recognize her exemplary work. A professional development scholarship of up to $1,500 is also included in the award. This award builds on MPTF's professional development efforts, classroom grants, education leadership initiatives, and recognition programs for outstanding Montana educators.
"Hannah Williams is proof that innovative teaching is alive and well in Montana's public schools," said Amanda Curtis, MPTF Chair and MFPE President. "She knows students forge lifelong habits in school, and she's equipping them with the tools they need to lead healthy lives. We at MPTF thank her for continuing the work John Morrison started when he wrote and passed an initiative offering tens of thousands of kids reliable access to health care."
"Cathy and I are incredibly honored to recognize Hannah and the work teachers like her do to set Montana's students up for happy, healthy lives," said John Morrison–Helena lawyer, former Montana State Auditor, and founder of the Healthy Montana Kids Program. "This is our second year partnering with MPTF, and we continue to be amazed by the stories of teachers like Hannah. Whether she's discussing healthful living or out skiing and fly fishing with her students, Hannah sets a high bar."
John Morrison, Cathy Wright, and Amanda Curtis surprised Williams with the Healthy Montana Kids Award in front of her colleagues. Williams will prepare a professional development session covering the best practices she's created to meaningfully engage students on healthy living. Next fall, she will present her work to fellow educators at the 2024 MFPE Educator Conference in Bozeman.